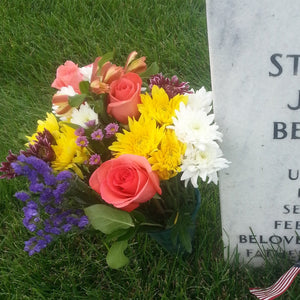 Monthly Flowers - Keep Things Colorful
If adding
Regular price
$ 37.00
$ 0.00
Unit price
per
When it comes to the beauty of your loved ones gravesite, we now offer a monthly flower delivery. We will deliver a new bouquet every single month on your behalf.
For this subscription, we will deliver whatever that months flowers are. For example, if you subscribe to this, then on each of the respective holidays, that is the kind of bouquet or wreath that will be delivered.
Our bouquets usually have a variety of colors and types of flowers. * During winter months we will use artificial flowers. * If you have a specific color or need please put that in the comment section. In the comment section include requested delivery date also include the full name. If possible include section and site number of deceased. As always we include a picture with your order. The picture will be emailed or mailed USPS after placement.

We care, we deliver
Fort Snelling Cemetery Flowers has a wide variety of flowers for cemeteries. Our exquisite natural cemetery flowers will help satisfy your loved one's wishes. We care about your specific needs. That is why we give you the option to request for a specific bouquet or anything else that you require.
We are committed to delivering you the freshest cemetery flowers at the best prices. As always, a picture will be attached with your order to give you an idea of what you have ordered. Our service is fast, reliable and personal. We also try our level best to accommodate last-minute orders.

---