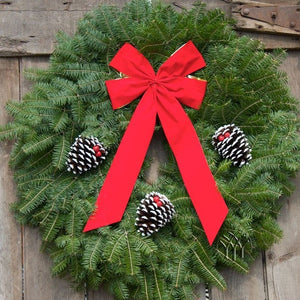 A Wreath (Traditional Classic) Fort Snelling Cemetery Placement Included
If adding
Regular price
$ 39.00
$ 0.00
Unit price
per
Our 25 inch wreaths are handmade from Minnesota Balsam Fir. The Traditional Classic has 3 frosted tipped glittered pine cones and accented with jingle bells It also includes a red velvet bow with gold foil backing. We also use a sturdy wreath stand that will never fall over during high winds and snow common at the cemetery. As always we include a picture with your order. The picture will be emailed or mailed USPS after placement. In the comment section include requested delivery date also include the full name of the deceased and if possible section and site number. 
****The wreaths will be placed a week or so before Thanksgiving unless requested for a different date. ****

Wreaths are only placed from November 11th to December 24th each year.
Quality and value, our pride

Explore handmade Classic and Victorian wreaths for graves at Fort Snelling Cemetary Flowers.
Our 25-inches classic wreaths have three frosted tipped glittered pine cones. It also features jingle bells, along with a red velvet bow and gold foil backing.
Apart from offering high quality wreaths for the best value, we also provide sturdy wreath stands that can withstand strong winds and snow. Furthermore, we will email or mail you a picture with your order, without any additional charges. We offer 100% satisfaction guarantee to our customers. If you are not satisfied with your order, you can contact us anytime.

---